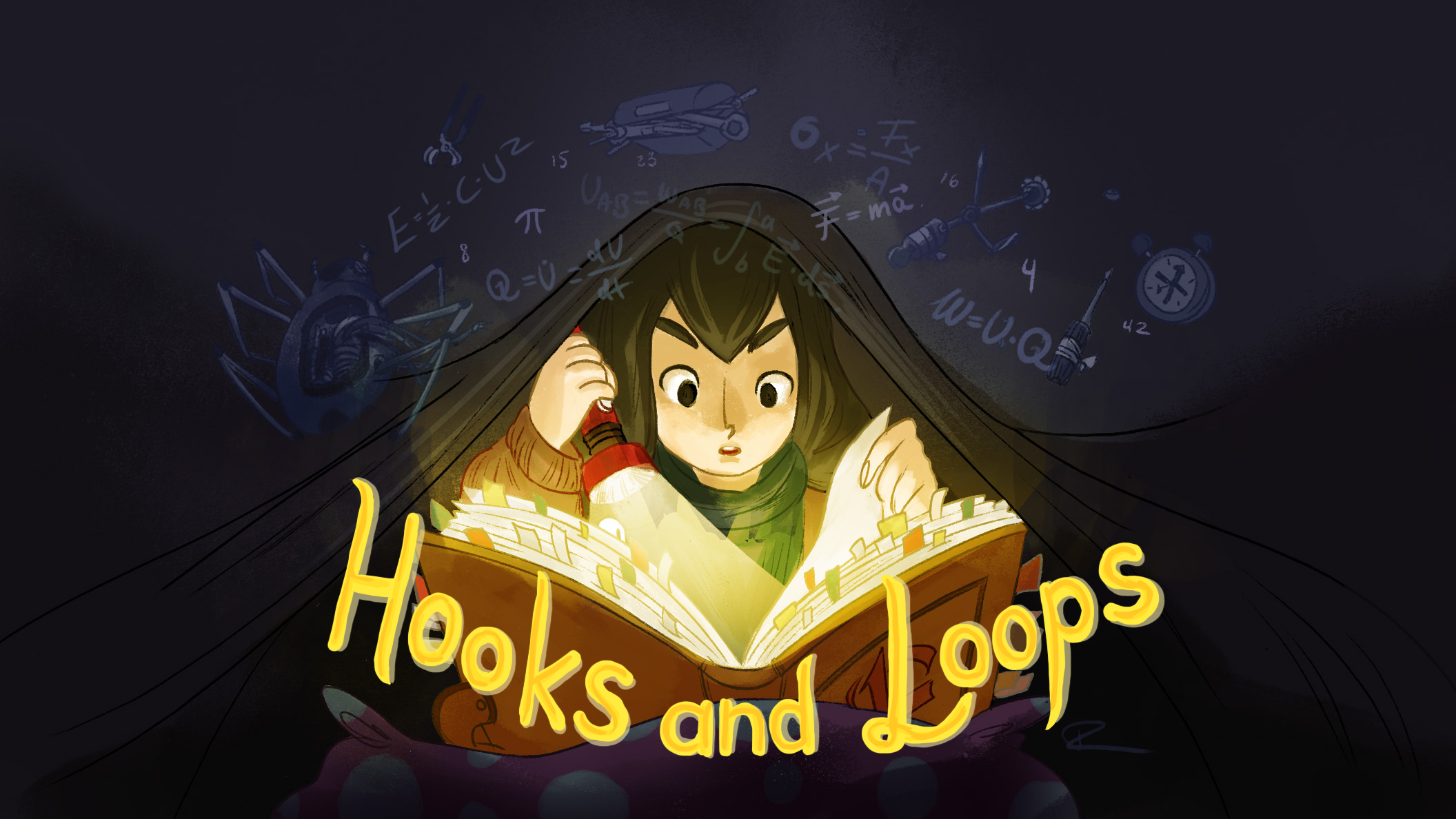 Hooks and Loops
A downloadable game for Windows, macOS, and Linux
Was willst du eigentlich mal machen, wenn du groß bist?
Erfinderin Emma ist frustriert: Ihre neue Erfindung ist schon vor dem ersten Testlauf ein Haufen Schrott, ihre Eltern und Klassenkameraden haben keinen blassen Schimmer davon, wie schwer es ist als Teenager in einem verschlafenen Dorf im Nirgendwo zu leben, und nun will ihre Lehrerin auch noch, dass Emma einen Aufsatz über dieses Debakel schreibt.

Um sich von dem Wahnsinn um sie herum abzulenken, kommt Emma die mysteriöse Kiste, die ihr von ihrem Opa hinterlassen wurde, also gerade recht. Noch ahnt sie nicht, welche Schätze sich darin verbergen – und so macht sie sich mit Schere, Klebeband und einer gehörigen Portion Grips auf in ein Abenteuer, das ihr Leben verändern wird. Wenn nur dieser blöde Aufsatz nicht wäre…!
Hooks and Loops ist als Abschlussprojekt im Rahmen des Studienganges Medienwissenschaften und Medienpraxis B.A. an der Universität Bayreuth entstanden.

Full Soundtrack
Credits
Ein Spiel von
Antonia Boschert
Peter Mentz
Ilona Treml
Sprecher
Emma: Maxie Liebschner
Alfons: Daniel Heßler
Mutter: Juliana Bernecker
Vater: Matthias Heinrich
Großmutter: Rohana Mentz
Phillipe: Jochen Koubek
Lehrerin: Antonia Frankrone
Tagebuch-Erzähler (Opa): Jonas Hüsges
Mitschüler A (Nina): Antonia Boschert
Mitschüler B (Robin): Marius Mühleck
Kellner im Café: Jan Szymanski
Fräulein Schnippes: Hannah Kümmel
Herr Kunselt: Robin Rüther
Backgrounddesign & Main Character Design Rohana Mentz
Additional Background Artists Erin Overmann, Rebecca Reynolds
Musik Paul Redetzky
Sounds freesounds.org freefx.co.uk
Tester Anna Demuth, Cedric Easton, Andreas Gilson, Jonas Hüsges, Julian Kolb, Hannah Kümmel, Marius Mühleck, Paul Redetzky, Marlene Seliger
Dankeschön an Die Medienwissenschaft Bayreuth und Daniel Heßler
Download
Click download now to get access to the following files:
Hooks and Loops | Version 1.1 | Win
385 MB
Hooks and Loops | Version 1.1 | Mac
387 MB
Hooks and Loops | Version 1.1 | Linux
385 MB
Comments
Log in with itch.io to leave a comment.
The art style seems very cute and stylistic, though, is there any plan to add English for others to play?
We are currently working on an English version. Should be done before the end of this year! :)
Any plans to add English?